Welcome to
S*Bjaro's
breeding of Siberian Cats
We have kittens!
You can find more information here
or one our FB page
IC Goryana Verooka*BFC-BY
Some good articals about the Siberian Cat.
Help and support the research for HCM in the Siberian Cats.
(Click on the banner below)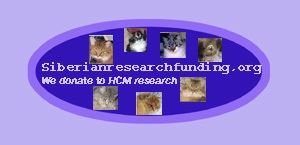 Pepe (S*Bjaro's Valdemar)
Has recived his second Breeders Award of Merit
22th July 2007 in New Zealand
We are very proud and greatful to Kerry Simmons for sending us this picture.
Mail: roseanne.forslund@telia.com
Adress:
Roseanne Forslund
Rådhusgatan 39 A, 2 tr
852 32 Sundsvall
Phone:060-15 20 75
Mobil: 070-229 20 75
Mail: daniella.forslund@telia.com
Adress:
Daniella Forslund
Rådhusgatan 39 A, 2 tr
852 32 Sundsvall
Phone:060-15 20 75
Mobil: 076-822 22 96